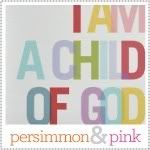 Okay, so I admit it. I have a hard time hanging LDS art in my home. I want to remember Christ and what I believe in everything I do, but there is a certain "every Mormon home has this picture" stigma attached to so much of it. And I like to be different. I do.
Alas, I have found modern beauty with
persimmon and pink
. Words I love to remember and love to teach to my children, and words I will now be thrilled to hang in my home. Check this gal out--I LOVE her prints.