Jackie
is crazy cool. Really, when I go to her blog I am always uplifted in a "lets have a sleepover and paint our nails" kinda-way. "Then let's eat some oreos. Or make some from scratch. Or toilet paper that boys house over there."
She's adorable.
And this week is the beginning of

Impact Week

on her blog. And even though I am a part of it, I am really just excited to know about such an influential role she is taking by passing the gift that she received...forward. You can read about how it all started here.
And it's just the beginning!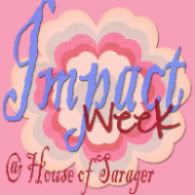 Now go forth and do good!